My excitement is building as the Olympic torch is just a few hours away from returning to its ancestral home. I look forward to seeing all the intense competition during the next two weeks. Regardless of how the Games are covered, it's always a treat to see the finest in the world compete in the field of sport.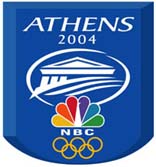 Apparently, this is a great time to be an couch Olympian, especially after reading NBC's press kit for its Games coverage. The Olympic motto is Citius, Altius, Fortius (meaning "Swifter, Higher, Stronger"). NBC is definitely going for more in this year's coverage. It's even trying to set the world record for continuous TV watching in a publicity stunt.
From the looks of it, it's pretty impressive -- over 1,210 hours of coverage on seven television networks. The networks are as varied as broadcast parent NBC to Spanish-language Telemundo. And it's not all going to be gymnastics and track-and-field, either. NBC is promising some coverage of all the Olympic sports.
That said, NBC's not getting its unprecedented
coverage
off to an auspicious start. Apparently not willing to preempt sudsy Passions, Friday's opening ceremonies will air taped in primetime Friday night.
By comparison, Canada's CBC not only manages to air the opening and closing ceremonies live (Starting at 1 p.m. EDT Friday), but they re-air the opening ceremonies in prime-time.
It's true that the
CBC's coverage
won't be as comprehensive as the juggernaut that NBC is assembling (294.5 on its main network, 115 on CBC Newsworld and 150 on non-CBC network
TSN
). But, of all the NBC-Universal networks, I only get one -- NBC. All the live sports that might air on Bravo! or USA are pretty meaningless to me. Just like I'm not too concerned about
Radio-Canada
's and
RDS
's Olympics coverage in French.
It's no secret that I love the CBC's comprehensive coverage of events -- live whenever possible. Still, according to a
Globe and Mail
story, it seems the time difference is going to force the network to tape delay some coverage. I guess the fact that it would be 1 a.m. in Greece when the East Coast hits prime time is a pretty good reason.
While the CBC is resorting to airing a highlights programme each prime time, that doesn't mean that its not airing the events earlier in the day live. I wonder if NBC would be nice enough to give us the same option?